Top 5 intriguing Sarajevo museums to visit while in Sarajevo
If you decide to come to Sarajevo and you want to know the history of our city and our country, to experience cultural diversity, to find out some interesting things about this region do not miss to visit the top 5 Sarajevo museums as seen by Meet Bosnia Travel.
1. National Museum of Bosnia and Herzegovina
The National Museum of Bosnia and Herzegovina, located in Sarajevo is a perfect option for you if you want to explore the history and culture of our country from prehistory until these days. There you can find very interesting exhibitions in the area of archaeology, ethnology, and natural sciences.
Something very important and interesting that you can find in the National Museum is definitely an illuminated  Jewish codex known around the world as "Sarajevo Haggadah". This book is a collection of religious rules and traditions of Jews who brought Haggadah from Spain to Sarajevo probably in the 17th century where it remained all this time.
OPENING HOURS:
Tuesday to Friday: 10:00 am – 7:00 pm
Weekends: 10:00 am – 2:00 pm
The Haggadah of Sarajevo is possible to visit only twice a week: Tuesdays and Thursdays from 12:00 AM-1 PM.
The entrance fee is 6KM
ADDRESS: Zmaja od Bosne 3, Sarajevo
2. Svrzo House
Svrzo House is a perfect example of the traditions and culture of a Muslim family from the end of the XVIII century. It is also a great example of architecture in that period – the house is divided in two parts – selamluk (public part) and haremluk (family part of the house). The house belonged to an eminent Bosnian Muslim family  Glođo, but since the family did not have any more male successors the house went into the ownership of another eminent family –  Svrzo family.
If you want to come back to the 17th century, to enjoy the stories about this house, about life in that period, visit this beautiful house, now one of the few authentic Sarajevo museums.
OPENING HOURS:
Monday to Friday; 10 am m- 6 pm
Sunday: closed
Entrance Fee is 3 KMADDRESS: Glođina 8, Sarajevo
3. Sarajevo Tunnel Museum – extraordinary experience in our Sarajevo museums list
One of the most important things you should visit in Sarajevo is definitely the Sarajevo Tunnel Museum. The Tunnel of Hope is a tunnel that the Bosnian army has built-in 1993 to connect the city of Sarajevo with the only free territory in the surrounding area – Mountain Igman. Years of war in Bosnia (1992-1995) were very hard and this 800 m long tunnel that was built under the airport is something that made everyday life in Bosnia easier. On Tripadvisor, you can find one of our best-rated tours for Sarajevo museums, the War Tunnel Tour in Sarajevo.
The exit of the tunnel was in the house of family Kolar which is now a museum where you can pass through 25 m of the tunnel and you can watch a documentary about the construction of the tunnel and bombing of our city and where you can find many exponents from the war. You can visit this museum on our most famous tour – Fall of Yugoslavia, Sarajevo Siege Tour.
OPENING HOURS:
Every day: 9 am – 5 pm (summertime, last entrance 4:30 PM)
Every day: 9 am – 4 pm (wintertime, last entrance 3:30 PM)
Entrance fee: 10 KM (adults), 5 KM (students)
ADDRESS: Tuneli 1, Sarajevo
4. War Childhood Museum
War Childhood Museum is one of Sarajevo's museums where you can find a collection of personal stuff, photos, videos, drawings, and many other things that portray childhood during the war in Bosnia (1992-1995). What you can see in this museum is something unique, something that will help you have a better understanding of the war, especially of war childhood.
OPENING HOURS
Every day: 11 am – 7 pm
ADDRESS: Logavina 30-32, Sarajevo
5. Gallery 11/07/95 – Srebrenica Exhibition Museum
Exhibition of Srebrenica is an artistic documentary about life and suffering in Srebrenica. Srebrenica is a city in Bosnia in Herzegovina where a terrible genocide happened in July 1995. In this museum, you can watch different sections of the multimedia such as: "Srebrenica – genocide at the heart of Europe", The Wall of Death, Portrait of the victims, and others. This museum is an example that "a picture is worth of thousand words".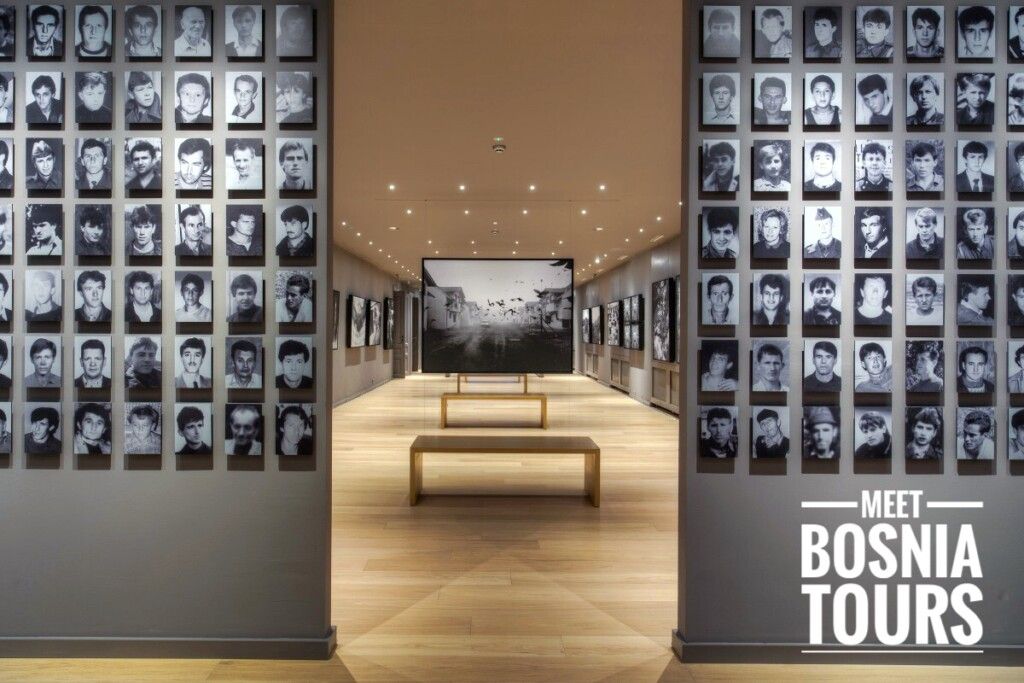 OPENING HOURS
Every day: 9 am – 10 pm (summertime)
Every day: 10 am – 6 pm (wintertime)
Entrance fee 12 KM
ADDRESS: Trg Fra Grge Martića 2, Sarajevo
---
Sarajevo museums guide, hopefully, helped you to find the ideal museum for yourself and enjoy your time in Sarajevo while learning something new about our history which is no doubt, diverse. Next time Sarajevo pops up in your mind, you'll remember that museum as a place where you find joy and an experience to remember thanks to our Sarajevo museums guide.
So, every time you hear someone is planning to come to Sarajevo, make sure to recommend them our Sarajevo museums guide, maybe it will help them as much it helped you. That will help them a lot and it will save time spent on Google searching for locations where you can learn something about the history of Sarajevo, or Bosnia and Herzegovina. Also, you can always book our tours following this link and we will be more than happy to walk you through our best Sarajevo museums route and to give you some hints only known for locals.
---
If you are a traveler who would like to add something to our list, make sure you contact us with the message subject "Sarajevo museums". Looking forward to hearing from you!