5 MUST-SEE WATERFALLS IN BOSNIA
In this year, if you are planning on traveling throughout Europe, make sure to add Bosnia and Herzegovina to your bucket list. Among many amazing and stunning sightseeing places,  you absolutely have to visit Waterfalls in Bosnia. These gems are leaving all people who visit them breathless. Bosnia, with these amazing waterfalls, is surely Paradise on Earth.
Waterfalls in Bosnia are one of the natural beauties that will forever captivate our eyes. Waterfalls probably arouse emotions in most people that we didn't even know existed. It is safe to say that waterfall is water in its most beautiful form.
Some of them are a special attraction during the summer months, and some turn into an ice mass in the winter and create a fascinating sight. It is almost impossible to find the right words to describe the beauty of the waterfalls we have. Some of them are creating lakes after the fall while some of them are creating tufa. Even, one of them is situated in the center of the city which makes him the only waterfall in the world that is situated in the city center.
Here are the top 5 must-see waterfalls in Bosnia and Herzegovina:
WE ARE STARTING OUR WATERFALLS IN BOSNIA EDITION WITH
#1 ŠTRBAČKI BUK WATERFALL
Besides cave diving, rafting, hiking, and mountain biking, when it comes to National Park Una, all spotlight goes to the most beautiful waterfall in this part of the world. This 24 m long beauty will leave you breathless. It's surely a jaw-dropping view.
Štrbački buk waterfalls is near the villages of  Kulen Vakuf and Orašac. This waterfall consists of several other waterfalls in proximity. Natural waterfalls Štrbački buk constantly attracts nature lovers and many other tourists.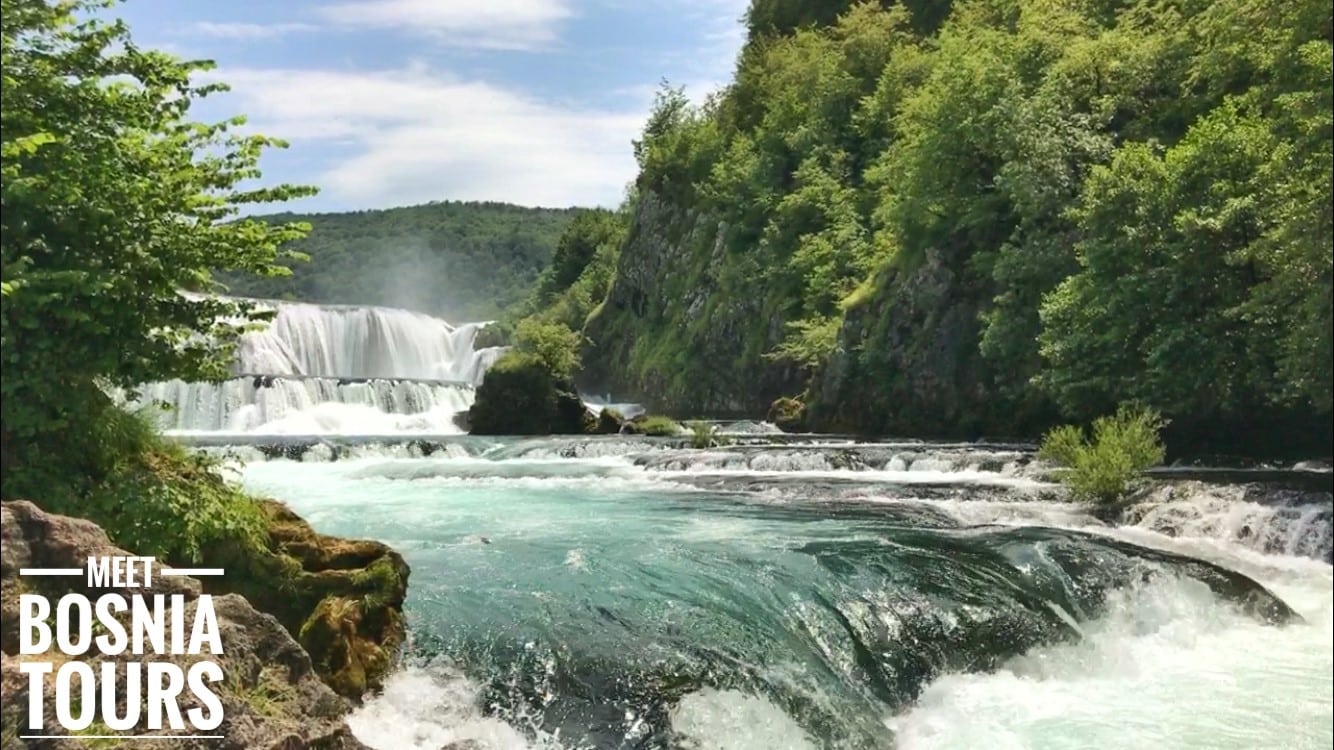 #2 KRAVICE WATERFALL
Even tho Štrbački buk is the most beautiful waterfall, I'd say that Kravice is the most popular. Many people who come to Bosnia often decide to see the other part of the country which is Herzegovina. One of the checkpoints on Herzegovina tours and Mostar tours from Sarajevo is indeed Kravice waterfall. This large tufa cascade on the Trebižat River 25m high and 120m wide. It's around 40 km south of Mostar and worth visiting.
#3 JAJCE WATERFALL
Personally, my favorite on the list of "5 must-see waterfalls in Bosnia" is an amazing waterfall located in the city of Jajce. Jajce has an enormously rich history from the Roman Empire period to the Bosnian Kingdom to Ottoman Empire to Austro-Hungarian Empire and even nowadays it was a very important city. Also, this waterfall is marked as one of the 12 most beautiful waterfalls in the world.
Furthermore, if you read the blog from the start, maybe you'll remember that I was telling you about one waterfall who is situated in the city center which makes him unique in the whole world? Yup, this is the one, in Jajce. I am sure you do not need any more reasons to visit this amazing waterfall, and this amazing city as well.
Huge fortress takes away the spotlight but nonetheless, Jajce waterfall is mesmerizing. One of the checkpoints on the Jajce-Travnik tour from Sarajevo is this waterfall beauty. I highly recommend that you check it out.
#4 SKAKAVAC WATERFALL
Located only 12 km away from the capital city, this is a favorite waterfall of Sarajevo citizens. Sakakavac is a natural phenomenon and it's 98m high. This is the second-highest waterfall in entire Europe. The surroundings of this waterfall are ideal for walking, running, very cute dates in nature, mountain biking, or just enjoying nature. Many Sarajevo tours have this breathtaking waterfall on their list and I am sure every Sarajevo guide would be more than glad to show you a way to this natural waterfall.
#5 BLIHA FALLS
This beautiful waterfall, often called Blihin Skok by the locals, is located 14 km from the city of Sanski-Most, in northwestern Bosnia and Herzegovina. Water drops from 56m high cliff. Bliha waterfall is designated a natural monument since 1965.
There is an interesting legend regarding this waterfall. According to the legend, two unimaginable beauties were born. One of them was called Bliha, the other one Zdena. When the time has come for them to be married, their brother chose to marry them to their cousins. Sisters could not handle such sin on their souls and decided to throw themselves, one from the first mountain, one from the second. From those mountains, two streams were made, as beautiful as they were. You can find a waterfall on one of those rivers and it is called The Bliha Fall.
Author: Zehra Bučo
---
We are sincerely hoping that "5 must-see waterfalls in Bosnia" helped you to understand the beauty and the potential that is present in Bosnia and Herzegovina. We are a really small country that has a lot to offer, and these 5 breathtaking and must-see waterfalls in Bosnia can vouch for that. So, every time you come to Sarajevo, or anywhere in Bosnia and Herzegovina, make sure to read our "5 must-see waterfalls in Bosnia" and save time spent on Google searching for interesting and amazing locations you can visit while in our country.
Also, following this link you can find an ideal tour for yourself and we'll do the rest for you.
---
If you are a traveler who would like to add something to our list, or you are having trouble finding a new, similar to Waterfalls in Bosnia, location to visit in Bosnia and Herzegovina, make sure you contact us with the message subject "Waterfalls in Bosnia". Along with that, we can recommend you to follow us on our Facebook page Meet Bosnia Tours where we regularly post our activities.
Looking forward to hearing from you!