This March, more precisely on the 22nd of March, it will be 162 years from the birth of Josip Vancas, an architect that have done a lot for Sarajevo, a lot for Bosnia and Herzegovina.
Josip Vancas was born in the Hungarian city of Sopron, where his father worked as a postman. Later his father got a job in Zagreb so they moved there.
He studied at the Institute of Technology until 1881. Later he worked in the atelier of F. Fellner and H. Helmer as a drawing designer for some theaters, and also for the Croatian National Theater in Zagreb. In this studio, Vancas was oriented towards the Renaissance style, which he will later use in Sarajevo. Waiting for a real job Vancas entered the Architectural Department of the Academy of Fine Arts in October 1882, where he dedicated himself to the Gothic study of Friedrich Schmidt.
Bosnian government invited him to come Bosnia and Herzegovina and he came to Sarajevo in 1883, where he spent most of his life and was the leading figure of Bosnian architecture. He studied Bosnian national architecture and tried to develop a "Bosnian style" by applying his characteristic elements.
During his activity in Bosnia in 1883-1921, Vancas was an unusually productive architect. He built 102 residential houses, 70 churches, 12 schools, 10 banks, 10 palaces, 10 government and municipal buildings, 6 hotels and a tavern. He did a lot for Bosnian architecture.
In addition to the buildings that have remained the best monuments and witnesses of that time,  Sarajevo owes his gratitude to Josip Vancaš for the protection of traditional architecture.
As a representative in the Bosnian-Herzegovinian Assembly, he submitted the 1911 resolution on the protection of cultural monuments in Bosnia and Herzegovina, first defining the term "Bosnian style". This resolution sought protection and valorization of the architectural heritage, and special benefits and tax relief for all new buildings built in this style.
In 1889, for the construction of the Cathedral of Sarajevo and the building of the Provincial Government, Josip Vancas was honored with the Knight's Cross of Franjo Josip I, and in 1898 he was honored by Pope Leo XIII Knight's Cross of St. George.
Josip Vancas died in Zagreb on December 15, 1932. Today, there is a  street in the center of Sarajevo which carries his name.
Without Josip Vancas Sarajevo would be just an average city in terms of architecture. If you would like to see his work with your own eyes feel free to join us on our Free Walking Tour, starting every day from 10:30 PM.
Now we will present you with a few of Josip Vancas greatest works in Sarajevo. This will explain to you his significance to this city and to Bosnia and Herzegovina as a country. 
Cathedral
His first work in Sarajevo that should be mentioned is the cathedral (1884-89), made in combination of Gothic and Romanesque elements. The outer length of the cathedral is 41.9 m, width is 21.3 m. The facade is decorated with two massive towers 43.22 m high. Above the shrine stands a 33 m high tower. Below the towers there is a horizontal facade arch, and beneath there is a richly decorated rosette of stone and stained glass. Below the rosette, there is a statue of the Heart of Jesus. Above the mild Gothic highland port in Timpan, there is a relief of the Holy Trinity built on the draft of Aleksandra Seitza.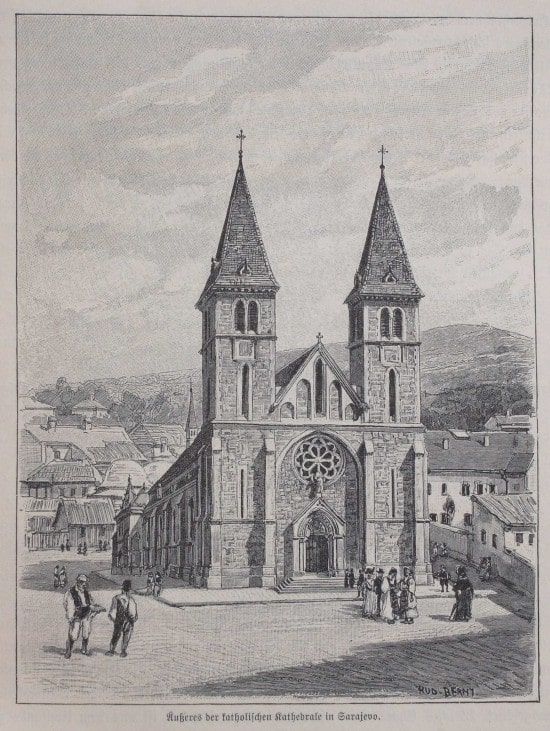 The cathedral was not directly targeted during the war, but the copper roof was damaged at 580 places, and damage was also visible on the outer walls. The interior of the cathedral was renewed in the period from September 27, 2010, to October 15, 2011. thanks to the honorable canon of the Vrhbosanski Stolni kapol Mons. Heribert August from Aachen.
The Main Post Office
The main post office was built in 1913, during the period of Austro-Hungarian rule, as a military post office. It belongs to Art Nouveau architecture, which originated around 1900 through a group of young architects and artists from Vienna and distanced from the classical style embarking on new roads in architecture and art.
On May 2, 1992, the main post office building in Sarajevo was burnt down during the siege of Sarajevo. So the building was completely burned down that day. Adaptation and reconstruction were done by Ferhad Mulabegovic until 2001.
Building of the Presidency of Bosnia and Herzegovina
Construction of the building began in March 1884, and Vancaš moved with his studio from Vienna to Sarajevo. The government entrusted him with expert supervision of the construction of the building. The entire course of the construction of the National Government Building was followed by a specially formed building committee, whose merits were completed 13 days before the contracted deadline and with the final costs reduced by 400,000 forints to 393,000 forints.
After a year and a half of construction, the facility was handed over to the National Government in October 1885. It was the largest building in Sarajevo at that time, and it consisted of a cellar, ground floor and two floors.
Grand Hotel
It was built in the spirit of early Renaissance, for Danijel Salom a wealthy merchant. Opened two years after the construction, in 1895, this hotel worked for a year and after that, the building changed its purpose several times.
In front of this building is the famous Eternal Fire. Eternal Fire is a monument to the liberators of Sarajevo in the Second World War, which was presented to the public on the occasion of the celebration of the first anniversary of the liberation of Sarajevo on April 6, 1946.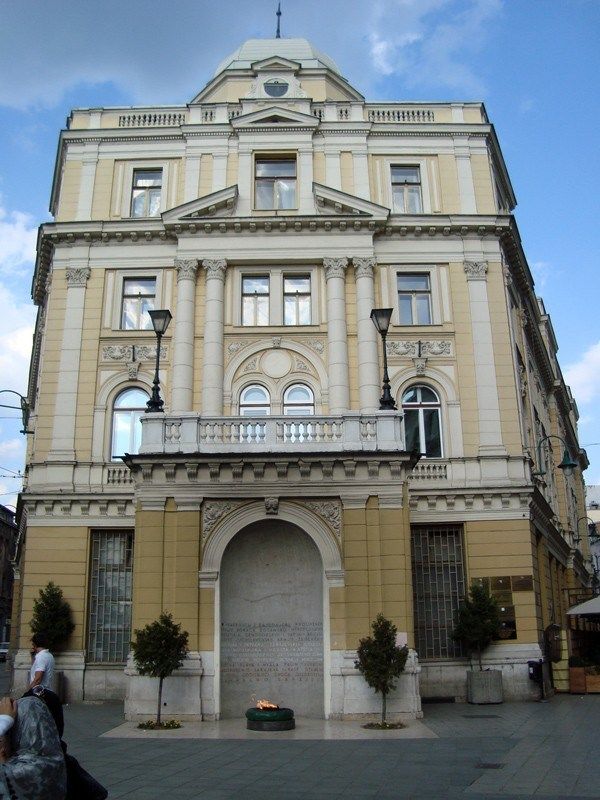 In addition to the above mentioned objects, Vancaš designed the Catholic cemetery on Kosevo (1884); he designed a theater building in Sarajevo (1890), but did not realize it. Vancaš also built his own house in Sarajevo, a one floor palace, from which he moved to Zagreb on September 27, 1921, after giving it to the Alliance of Croatian Peasant Cooperatives. In 1893, Josip Vancaš designed the present-day Music School, and then the Institute of St. Augustina, and in 1896, he designed the pavilion of Bosnia and Herzegovina.
Some of other Josip Vancas projects:
Orthodox Church in Konjic (1885)
Church in Zenica (1885)
Ajas-pašin dvor – Hotel Central in Sarajevo (1889)
Isa-begov Hamam in Sarajevo (1890)
Church of Assumption of Mary in Stup (1892)
Sjemenište of Cyril and Methodius in Sarajevo (1892-1896)
Church in Kiseljak (1897)
Church in Vareš (1898)
Residential building of  Jušua D. Salom in Sarajevo (1901)
Villa Mathilde in Sarajevo (1902-1903)
Church of the Holy Trinity in Sarajevo (1906)
Aircraft building in Rajlovac (1917)
In conclusion, we are very thankful for everything that Josip Vancaš did for our country – Bosnia and Herzegovina. Indeed, Vancaš's short stay in Sarajevo had an immeasurable effect on both the city and the country as a whole and he remains the single most influential architect of Bosnia and Herzegovina.
---
Follow us on our Facebook and Instagram account or get in touch with us and we will be your tour guides while you are traveling through Sarajevo and Bosnia and Herzegovina.
---
Author: Tea Manko