The Best Shopping in Sarajevo
Besides visiting historical, cultural and natural monuments on your holiday it is inevitable to do some shopping. It does not matter if you want to go shopping for yourself or get some presents for your family and friends, it is always good to know where you can get certain things.
During the Ottoman period, Sarajevo became a very prominent merchant and trading center. Now you have shops that sell traditional hand-crafted goods in Baščaršija, the old part of the city. Nowadays, artisan products are highly valued and respected by many. With that in mind, if you are at Baščaršija, go and visit one of the most beautiful and picturesque streets, Kazandziluk. There, you'll find coppersmith's handmade goods perfect for a gift or a souvenir for yourself. You can buy coffee sets, jewelry, or handmade Bosnian carpets. Unique things you will find only at Baščaršija.
Also, a unique place to do some souvenir shopping is GAZI HUSREV BEY`S BEZISTAN, a covered market ( bazaar) from the Ottoman period with crafted goods, clothes, and jewelry shops. An interesting fact regarding bezistan is the fact that half of it is undermined into the ground while the remaining part is on the floor ground. The reason is that during the Ottoman rule it was used for selling fruits, vegetables, and meat and it was much colder if it was underground. Hence, the reason for undermining the market. Without that, all the products would spoil much faster.
Also, a lot of people through history said that there is quite a resemblance between Kapalıçarşı or Grand Bazaar in Istanbul, Turkey, with our, much smaller Gazi Husrev Bey's Bezistan due to inside architecture.
You can discover the most prominent sites in the Old Town of Sarajevo in the Sarajevo Free Walking Tour.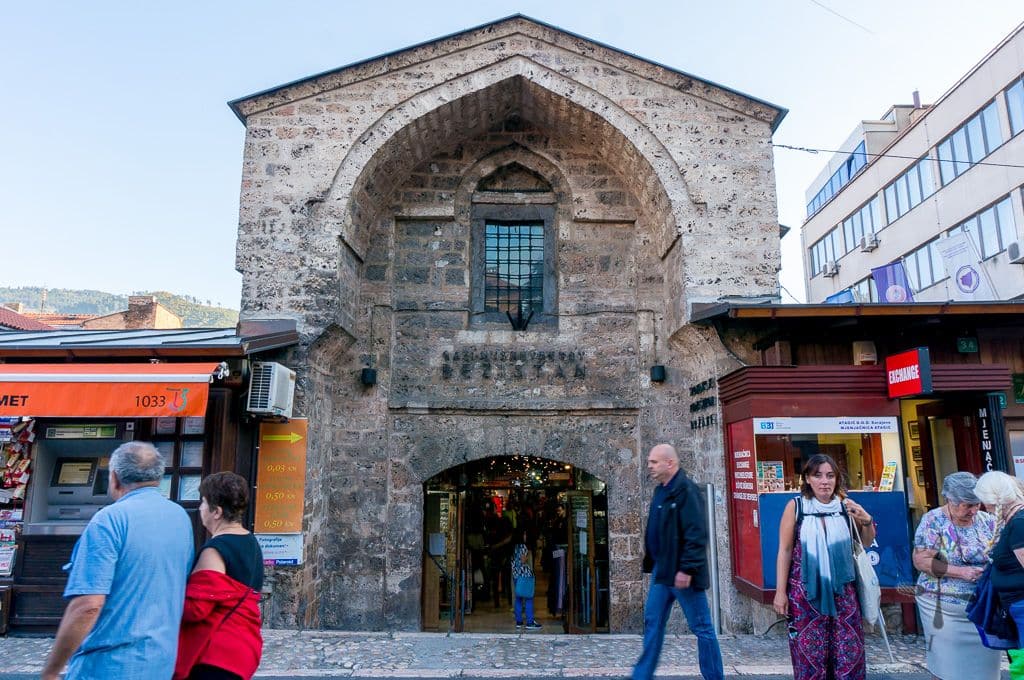 Modern Shopping in Sarajevo
If you want to buy your gifts in well-known shops there are many shopping malls to go to as well. Froom 2000 onwards, a lot of things were done to improve the quality of life for the citizens of Sarajevo. One of the most important parts of everyone's life is shopping. As Sarajevo become popular for tourists in the last decade, it would be unfair if we don't share some of the locations for the best shopping in Sarajevo.
#1 SARAJEVO CITY CENTER
The biggest mall in Bosnia and Herzegovina is located in Sarajevo. Around 80 shops offer well-known brands in fashion, sports, and technology for a unique shopping experience. Besides shops, you can find cafe-bars, restaurants, exchange offices, supermarkets. On the top floor, there is an entertainment center, designed for both children and adults. On the subterranean floors, there is plenty of parking space.
⏱ MON-SAT 10 AM-10PM
#2 BBI CENTAR
A unique facility in the very downtown, with 125 stores you may also find a supermarket, beauty salon, hairdresser salon, kids playroom, as well as enjoy the specialties of our restaurants. Take a break with sweets or salty meals on the Food Court, and have refreshments in cafés.
📍 Trg djece Sarajeva 1, Sarajevo 71000
⏱ MON-SAT 09AM-10PM
#3 ALTA SHOPPING CENTER
You can find Alta Mall at the start of the Austro-Hungarian district, a smaller mall than the previous two malls. Popular shops with very affordable brands. With 70 stories it also offers restaurants and parking.
📍 Franca Lehara 2, Sarajevo 71000
⏱ MON-SAT 09AM-10PM
#4 IMPORTANNE SHOPPING CENTER
Importanne is the first shopping center in Sarajevo that conceptually combines business, residential, and shopping environments into one unique complex. Located in the commercial and cultural center of the city, Importanne creates a new architectural image of Sarajevo. In Importanne Center you can visit exclusive attractions as well as some of the brands you are already accustomed to.
If you take a stroll around the ground floor and the mezzanine you will find fashion and accessories brands, cosmetics shops, hair salons, tobacco shops, restaurants, and cafes as well as the Sparkasse Bank office. Should you go down one floor, you would find a supermarket, tech shops, furniture shop, toy store, children's playground, and cafés where you can make a short shopping break.
📍 Zmaja od Bosne 7, Sarajevo 71000 
⏱ MON-SAT 08AM-11PM
---
With our best shopping Sarajevo guide, hopefully, you have found a place for yourself, a place that will always remain carved in memory when you read or hear something about Sarajevo. Looking back around 10 years ago, you wouldn't have this much choice when it comes to shopping locations, but since Sarajevo keeps in line with other European city trends, many shopping malls started to build and now we have a variety of choices.
Still, we're missing a few worldwide chains, but they will also come, eventually. With them, more tourists will come, and the shopping spree will be even bigger than it is currently. No worries, when they arrive in our city, we'll make sure to write a new best shopping in Sarajevo blog for you, our dear readers, and customers.
So, every time you come to Sarajevo, make sure to read our "Best shopping in Sarajevo" and save time spent on Google searching for locations where you can spend money buying a new pair of shoes, a new coat, or a gift for your girlfriend/boyfriend, family or friends. Also, you can always book our free city tour following this link and we will be more than happy to walk you through our best shopping in Sarajevo route and to give you some hints only known for locals.
---
If you are a traveler who would like to add something to our list, or you know some amazing place where prices are a real bargain and where the offer is awesome, make sure you contact us with the message subject "Best shopping in Sarajevo". Looking forward to hearing from you!