Besides visiting historical, cultural and natural monuments on your holiday it is inevitable to do some shopping. It does not matter if you want to go shopping for yourself or getting some presents for your family and friends, it is always good to know where you can get certain things.
During the Ottoman period, Sarajevo became a very prominent merchant and trading center. Now you have shops that sell traditional hand-crafted goods in Baščaršija, the old part of the city.
In Baščaršija you can find coppersmith's hand made goods perfect for a gift or a souvenir for yourself. You can buy coffee sets, jewelry or handmade Bosnian carpets. Unique things you will find only in Bascarsija. Also, a unique place to do some souvenir shopping is GAZI HUSREV BEY`S BEZISTAN, a covered market ( bazaar) from the Ottoman period with crafted goods, clothes and jewelry shops.
You can discover the most prominent sites in the Old Town of Sarajevo in Sarajevo Free Walking Tour.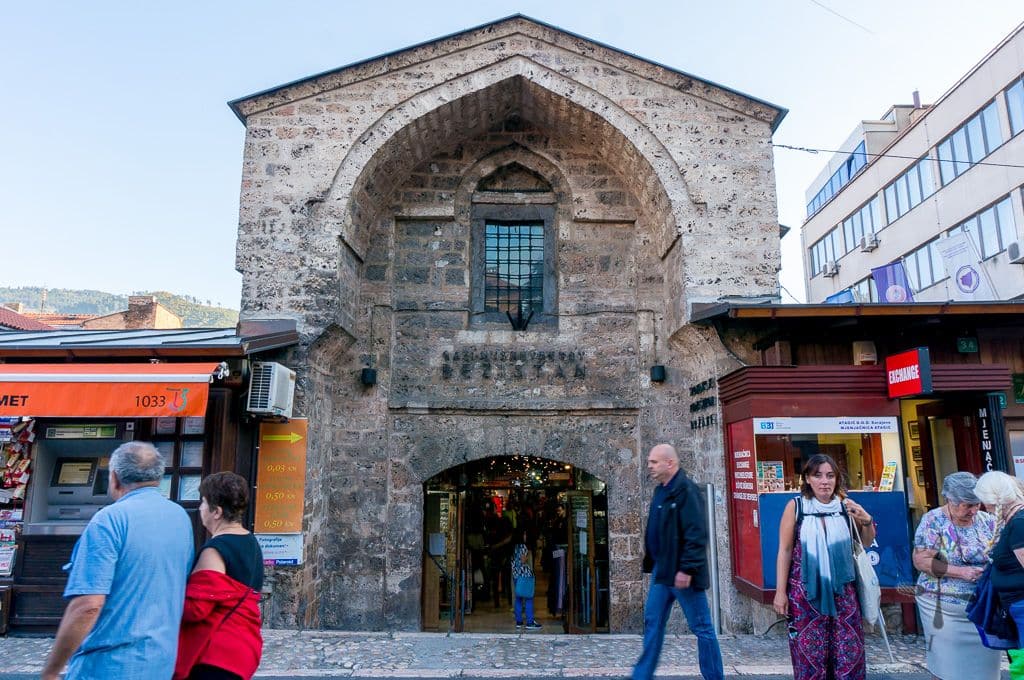 Modern Shopping in Sarajevo
If you want to buy your gifts in well-known shops there are many shopping malls to go to as well.
#1 SARAJEVO CITY CENTER
The biggest mall in Bosnia and Herzegovina is located in Sarajevo. Around 80 shops offer well-known brands in fashion, sports and technology for a unique shopping experience. Besides shops, you can find cafe-bars, restaurants, exchange offices, supermarkets. On the top floor, there is an entertainment center, designed for both children and adults. On the subterranean floors, there is plenty of parking space.
Address: Vrbanja 1, Sarajevo 71000
Working Hours: MON-SAT 10 AM-10PM
#2 BBI CENTAR
A unique facility in the very downtown, with 125 stores you may also find a supermarket, beauty salon, hairdresser salon, kids playroom, as well as enjoy the specialties of our restaurants. Take a break with sweets or salty meals on the Food Court, and have refreshments in cafés.
Address: Trg djece Sarajeva 1, Sarajevo 71000
Working Hours: MON-SAT 09AM-10PM
#3 ALTA SHOPPING CENTER
You can find Alta Mall at the start of the Austro-Hungarian district, a smaller mall than the previous two malls. Popular shops with very affordable brands. With 70 stories it also offers restaurants and parking.
Address: Franca Lehara 2, Sarajevo 71000
Working Hours: MON-SAT 09AM-10PM
#4 IMPORTANNE SHOPPING CENTER
Importanne is the first shopping center in Sarajevo that conceptually combines business, residential and shopping environments into one unique complex. Located in the commercial and cultural center of the city, Importanne creates a new architectural image of Sarajevo. In Importanne Center you can visit exclusive attractions as well as some of the brands you are already accustomed to. If you take a leisurely stroll around the ground floor and the mezzanine you will find fashion and accessories brands, cosmetics shops, hair salon, tobacco shop, restaurants, and cafes as well as the Sparkasse Bank office. Should you go down one floor, you would find a supermarket, tech shops, furniture shop, toy store, children's playground, and cafés where you can make a short shopping break.
Address: Zmaja od Bosne 7, Sarajevo 71000
Working Hours: MON-SAT 08AM-11PM