Social networks became unavoidable at this point. Everyone has Facebook, Instagram, Pinterest, Twitter, etc. (Is Tumblr still alive?) We travel, we meet new people and new places, we visit different countries and try to learn more about different cultures. We take local tours and often ask for recommendations when it comes to places where to eat and where to drink. In all of this, photography plays a big role. You take pictures and you want to show them to the entire world, you want to post them everywhere, especially Instagram. Whether you are into professional photography or amateur, or maybe you want to put pretty pictures on your feed to fit your aesthetic, I am sure this blog about the best Cafes in Sarajevo will be useful to you.
Welcome to Sarajevo, the capital city of Bosnia and Herzegovina. Place where cultures meet. You will be overwhelmed by so many things around and maybe you will spend an eternity of browsing to try and find an interesting place to go to. Fear not. I am here to save you your hassle and hours of browsing. I am presenting you top 5 Instagrammable cafes in Sarajevo, in the old town (because you will 100% visit/stay in this part). In this list, I also took into consideration food, drinks, atmosphere, decor, and location. Besides the address and working hours provided, I added their Instagram username so you can check them out yourself and decide which one you want to visit.
I didn't put them in a specific order from best to worst or anything like that because I personally enjoy all of them and I am sure you will too. Let's go through this list!
No.1 SOVA
In Bosnian, Sova means Owl. This beautiful cozy cafe is a hidden gem in the old part 9f the city and you will have a hard time finding it if you aren't accompanied by a local friend. The reason why I love this cafe is that its synthesis between a library and cafe. You are surrounded by very chill and sometimes lofi music, cozy couches and chairs and the atmosphere itself is very relaxing. You have a variety of drinks, my personal favorite is coffee with cream and lemonade with Monin (comes in 3 colors red-strawberry, green-mint and blue). Also, you have another section to this called Pancake Factory, so you can try different types of pancakes. Salty or sweet it's your choice but you won't regret it.
Address: Aščiluk 9, Baščaršija
Working hours:
IG: @caffe_sova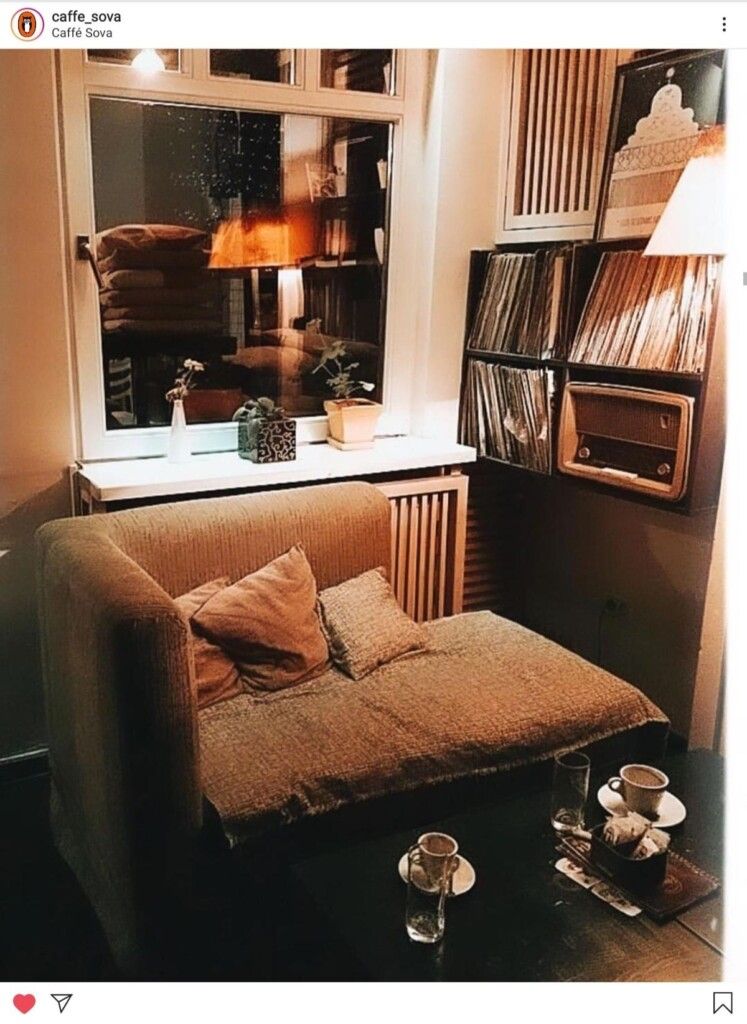 No. 2 MINISTRY OF ĆEJF
So this cafe is quite interesting. It has kind of vintage vibe to it and it's very small. You have 2 parts of it, for smokers and non-smokers. It's located in the heart of the old town of Sarajevo, but unless you are exploring and maybe going to the Yellow Bastion, you will most likely miss it. The atmosphere is nice and calming. On almost every table you have card or board games to play. I would highly recommend Princess Latte to try in case you visit this cute cafe. I am sure your pictures will turn out amazing.
Address: Kovači 26
Working hours:
IG: @ministryofcejf
No. 3 FLORA
Recently opened, this cafe is absolutely amazing. I am in love with color patterns and different combinations of designs, but still, everything fits in so perfectly. You can choose to sit on one of the two floors. The first one is for non-smokers and the second one is for smokers.
Address: Dalmatinska 6
Working hours: Mon-Sat 7 AM-11 PM Sun: closed
IG: @florasarajevo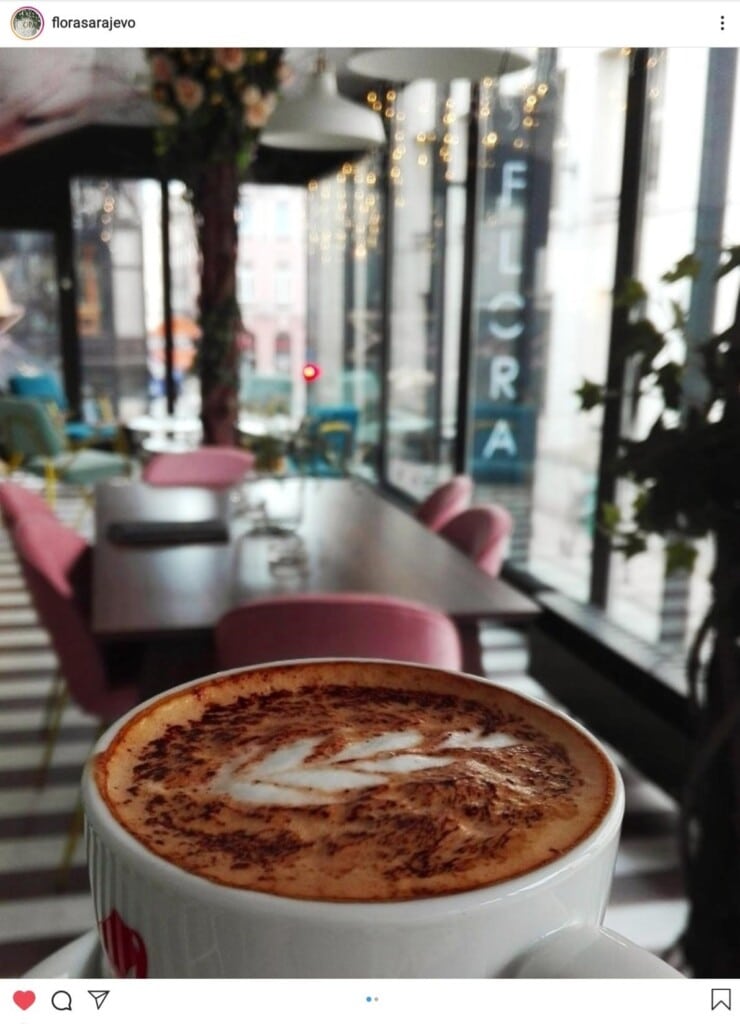 No. 4 KAISER KNEDLE
Another amazing place, in the heart of Baščaršija. As the name suggests, in this place you can get so-called knedle. It's round and very soft-bread roll with a crispy crust and it's filled with chocolate. My favorite would be lemon, Nutella, and bounty.
Address: Bravadžilluk 26
Working hours: Mon-Sun 10 AM-10 PM
IG: @kaiserknedle
No. 5 TALKS&GIGGLES
This place, oh my God, is a story itself. The view you will get sitting near the river is great. It's a relatively small place but nonetheless amazing. Spotlight of this cafe is on American pancakes. In Sarajevo, pancakes are very popular but rarely you can find real American pancakes. Combine tasty pancakes and lemonade in hot summer days, plus scenery and you have everything necessary for maximal enjoyment. This place is also quite popular for locals too. I highly recommend it!
Address: Hamdije Kreševljakovića 61
Working hours: Mon-Fri: 11 AM-9 PM Sat: 10 AM-9 PM, Sun: 11 AM-5 PM
IG: @talksandgiggles
I hope you enjoyed this shortlist and I hope you are going to enjoy the city of Sarajevo! Who knows, maybe in one of the walking tours you find another cafe that will be worthy of your attention.
Author: Zehra Bučo