Top 7 Unique Things To Do In Sarajevo
Whenever you travel, especially to some new country, you always want to experience something new, something unique. But finding hidden gems in every city isn't very easy. Some gems are hidden in plain sight, but you never know. So, I gathered some interesting and cool things to do in Sarajevo. Besides taking some of the best Sarajevo tours here are 7 unique things to do in Sarajevo!
Feeding the pigeons should be #1 on the list of things to do in Sarajevo
The main square in the city of Sarajevo often called The Pigeon Square (only by tourists, the real name of the square is Baščaršija), is a home of hundreds of pigeons. It's a huge attraction to see so many pigeons at the heart of the city. The mesmerizing sight of hundreds of them flying in the sky in a split second is worth it. If you are a good photographer you can catch them and make that moment eternal. But even after that, your adventure doesn't have to end. For a small price, you can buy food for them from the locals that sell it there, so you can personally feed them. Don't be scared. They don't bite!
Trebević Mountain Cable Car
Cable car by definition is a must in every city, but in Sarajevo, it is added value, and because of it, it has to be on everyone's things to do on Sarajevo list. After 26 years this Cable car is once again, fully functional. Why is it so unique? This cable car was quite popular before the siege of Sarajevo, and when it was destroyed, part of the city's soul was destroyed with it. You can only imagine how locals were happy to find out that the Cable car will once again become a lively place with many local and foreign people. Every car cabin is equipped with cameras and all of them are pet-friendly.
As for the price, the cost of a one-way ticket for tourists is 15 KM, and the return ticket costs 20KM. In case you have a bike with you, you will be charged 4KM extra. While at the top of the mountain Trebević you can walk around and enjoy the clean air and beautiful panoramic point of view. You can also walk around the Olympic bobsled track.
Ride Tram Around Sarajevo
Ride tram around the city is one of the most adventurous things to do in Sarajevo. You are probably wondering, "Is this person sane? How can the usage of public transport be adventurous?" Well, here's a thing, if you go to Berlin or Istanbul or any other city with the fancy transportation system, it won't be an adventure. Just a normal ride to your destination.
Here sitting in a tram and riding the entire round through the city is unquestionably an adventure. Trams are quite loud and very old. You will often hear locals say that they are "from the Austro-Hungarian period". If you are looking for experience please enjoy loud trams. Can the power go out? Will it stop all of a sudden? Will it take the wrong turn and go to the station instead of going to the other side of the city? You never know. One tram ticket is 1.60KM (if you buy it outside of the team at local stores you can find it at almost every tram stop) and 1.80KM if you buy it from the drivers.
Meeting of Cultures Spot
Sarajevo Meeting of Cultures is a very peculiar and amusing thing to see. It's a must-stop on all Sarajevo Walking tours, but in the care, you are wandering around the city by yourself, you might miss this spot. Meeting of Cultures is a special message you can find in Ferhadija st. This spot is a very thought-provoking and compelling, a place where two dominant cultures meet and clash. From one side you can find yourself in Istanbul, the heart of the Ottoman Empire.
Everything around you breaths and reminds you of Islam and Ottoman Empire. But…Only one step ahead and you will be captivated by utterly another look. This isn't Istanbul anymore, but rather you are in Vienna, in Austria. Buildings are different, architecture, and some people say even the mentality of people is entirely different.
Only one step! From the Ottoman Empire to the Austro-Hungarian Empire. These two empires shaped this city and its looks. In case you are passing through this area (and you certainly will) make sure you stop here. Another interesting and amusing fact about this spot is, from the center of the line, in a square of 100m you can find 4 different religious monuments: Old Orthodox Church, Mosque, Jewish Temple and Catholic Cathedral.No where else in the world you can find that many religious objects in such a small place. This is one of the reasons why Sarajevo is nicknamed "European Jerusalem".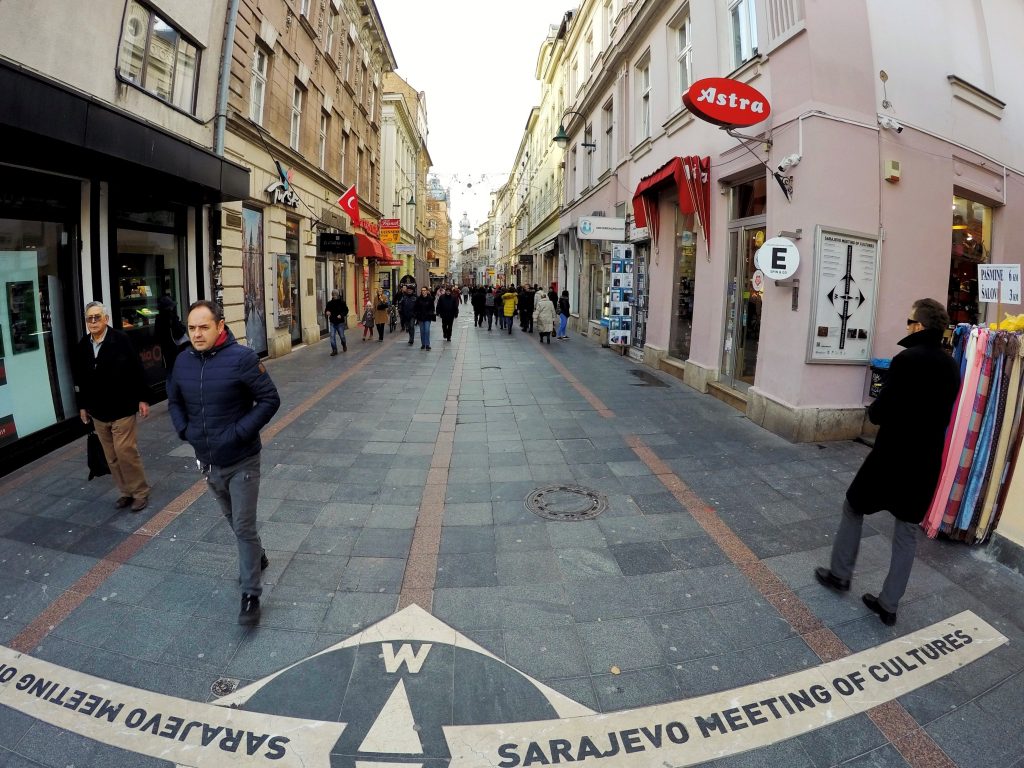 Check Out Stećci at the National Museum of Bosnia and Herzegovina
While reading this header your first thought would probably be "What is Stećak/Stećci?" First I will tell you why the word can be written differently. Stećak is a singular word while Stećci is a plural word. What are they? They are medieval tombstones. Before the Ottoman period, Bosnia had it's own Kingdom, so naturally, we will have medieval tombstones. There are 60 000 of them in the entire Bosnia and Herzegovina, but you can also find a smaller number of them in Croatia, Serbia, and Montenegro. So if you can find it in 3 more countries why are they so unique? The answer to that is simple.
Borders Now
Borders that Bosnia has today were quite different during the medieval period. Bosnia was at peak of its power while Tvrtko I Kotromanić was the King and of course, he conquered many parts of today's Croatia, Montenegro, and Serbia. Naturally remains of culture can be found there. Where can you find these tombstones in Sarajevo? You can find them at the National Museum. The National Museum holds many treasures and one part of this huge collection is Stećci.
Fun fact regarding many engraved drawings and writing on these tombstones, you will never and I mean NEVER find a stećak with a Bosnian man that's bowing to someone. Bosnian man is always standing proudly and will never bow down to someone.
📍 Zmaja od Bosne 3, 71000 Sarajevo
⏱ Tue to Fri:  10:00 – 19:00; Weekend: 10:00 -14:00
Entrance fee: Students-3KM; Adults: 6KM, Tour with a guide 30 KM
Visit Yellow Fortress
Ahh, one of the best vantage points in the beautiful city of Sarajevo, this fortress will take your breath away. It was built in the mid-18th century and it was part of the defensive walls of old town Vratnik. This fortress held a very important function, but it lost it's the purpose when Austro-Hungarians took over the city. Since it's on high ground, when you climb on top of it, you have Sarajevo city in the palm of your hand.
You can also sit in a wonderful cafe and take your time enjoying the vantage point. Another specific thing you can find in that fortress is medieval cannon. You read it right. A cannon. And it's still in use. Cannon is used 30 times per year, during the holy month of Ramadan, when Muslims are fasting, shooting from that cannon is a sign that they can break their fast. It's shot at the sunset. Important note: Don't touch the cannon! Besides that don't lean over the edges there's no fence.
📍 Jekovac
Entrance fee: FREE
Kamarija Cafe
And my final recommendation is a very special cafe. Again, just like Yellow Fortress, this cafe is on high ground and gives an excellent point of view. You can easily find yourself gazing over the entire city as you were looking over utopia. The cozy place should surely be on your bucket list. No matter what season is, you will find your peace and favorite drink here.
⏱ Mon-Sun: 08:00 – 24:00
---
Sincerely, I hope my blog was useful to you and I hope you will visit Sarajevo, and enjoy many Sarajevo sightseers, cool places, a lot of Sarajevo tours, etc. Let this blog be your guide to Sarajevo, its unique places, and things to do in Sarajevo.
If you are a traveler who would like to add something to our list, make sure you contact us with the message subject "Things to do in Sarajevo". Looking forward to hearing from you!
Author: Zehra Bučo