Since you are on this page we can assume that you have planned to visit Bosnia. If that is true we suggest you Visit Sarajevo and visit Bosnia as well. Sarajevo is one of the cities that offer a range of interesting and historical things in such a compact area.  The city has so much to offer to the visitors, including natural beauty, historical attractions, and unique experiences.
Brief about Bosnia and Herzegovina
Bosnia and Herzegovina have often known informally as Bosnia is a country at the crossroads of south and southeast Europe, located in the Balkans. The capital and largest city is Sarajevo. Bosnia and Herzegovina's neighboring countries are Serbia to the east, Montenegro to the southeast, and Croatia to the north and southwest. It is not entirely landlocked because, in the south, it has a narrow coast on the Adriatic Sea, which is about 20 kilometers (12 miles) long and surrounds the town of Neum. 
Bosnia is the inland region of the country and has a moderate continental climate with hot summers and cold, snowy winters. In the central and eastern regions of the country, the geography is mountainous, in the northwest it is moderately hilly, and in the northeast, it is predominantly flat. Herzegovina, which is the smaller, southern region of the country, has a Mediterranean climate and is mostly mountainous.
Visit Sarajevo and visit Bosnia – "Where 'East Meets West"
Visit Sarajevo and visit Bosnia blog will introduce you help you to understand even more why Sarajevo is famous for its "where east meets west", hence feel free to join us on our free walking tour starting every day from 10:30 PM. During winter, the visitors can enjoy winter sports, recreation, and enjoy plenty of opportunities in the snow. Autumn and spring season offer a mild climate and offers the pleasant discovery of the natural beauty of the environs and an exciting program of cultural and artistic events in the city.
Many visitors from all over the world like to visit Sarajevo during the summertime as the city becomes a busy and active holiday spot. During summer the city lives 24/7 and provides a complete entertainment to the locals and the visitors as well. If you plan to Visit Sarajevo and visit Bosnia, contact us and we will get take you on the best tour in Sarajevo.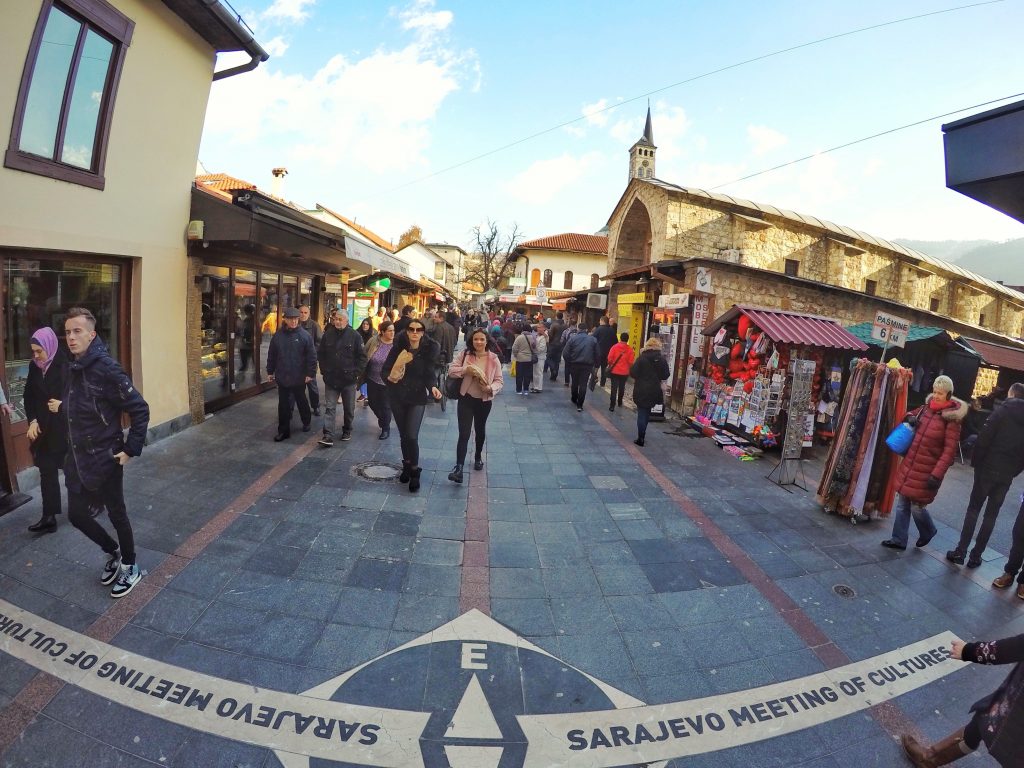 Sarajevo has its own importance. The visitors will not get satisfied with just one visit, and the first visit becomes the start of many more visits to this city.  In the year 1990 Sarajevo was overwhelmed and almost became volatile of obliteration. But, later it is restored its historic center and made the city completely welcoming for visitors with its high-quality lodgings, welcoming cafes, and the city is developed with an Ottoman architectural mixture of Austro-Hungarian and Yugoslav buildings.
Visit Sarajevo and visit Bosnia as well to enjoy the combination of modern and traditional architecture. There is a lot of beautiful cities to visit in Bosnia except Sarajevo, like Mostar, Bihać, Trebinje, etc… Follow us on our Facebook and Instagram account or get in touch with us and we will be your tour guides while you are traveling through Bosnia.
The historic and primeval stone-flagged streets of Bascarsija offer the charming Old Town center gives a specific Turkish feel. The south and north of Sarajevo are enclosed with steep valleys. They are camouflaged with red-roofed Bosnia abodes and spiked with numerous minarets, moving towards green-crowned crest mountain.
Westward Sarajevo drapes more than ten kilometers through Dreary Dobrijna and Novo Sarajevo that are enclosed with the bullet-scarred apartments.  The westernmost side of the city is covered with rich IIlidza makes the city look prosperous. In the winter the Mountain resorts Jahorina and Bjelasnica in Sarajevo offer some of the best value of European skiing, which is just 30km away.
The Capital of Herzegovina and Bosnia
Sarajevo is the capital city of Bosnia and Herzegovina. A small city located on the Miljacka River and the city is surrounded by the Dinaric Alps. Sarajevo museums are located in the center of the city. There you can learn about the local history of Sarajevo. Historic events occurred between 1878 and 1918. Also, covered the sensational assassination of Archduke Franz Ferdinand in 1914, and this murder sparked the outbreak of World War I.  The popular landmarks of the old quarter include Bašcaršija, the Ottoman period Gazi Husrev-Bey Mosque.
While you are on your Visit Sarajevo and visit Bosnia tour, feel free to read our – Top 7 unique things to do in Sarajevo -. We are certain it will be helpful.
Orthodox Christianity, Catholicism, Islam, and Judaism all religions have a strong venerable presence in the city and Sarajevo. It is also known as "Jerusalem of Europe," and synagogues, centuries-old churches, and mosques proliferate.  The Stari Grad, a stone-paved street in the old town.
Filled with stalls and shops selling coffee sets and rugs, also you can find nightclubs and bars in the city. You can have a complete view of the city from the 36-floor Avaz Twist Tower observatory covered with unique glass frontage. When you Visit Bosnia make sure to Visit Sarajevo. The exclusive and historic city and learn more about its traditions and culture.
---
We are sincerely hoping that this blog post helped you to understand the beauty and the potential that is present in Bosnia and Herzegovina. We are a really small country that has a lot to offer. So, every time you come to Sarajevo, or anywhere in Bosnia and Herzegovina, make sure to read our "Visit Sarajevo and visit Bosnia post" and save time spent on Google searching for interesting and amazing locations you can visit while in our country.
Also, following this link you can find an ideal tour for yourself and we'll do the rest for you.
---
If you are a traveler who would like to add something to our list, or you are having trouble finding a new, similar to visit Sarajevo and visit Bosnia article, make sure you contact us with the message subject "Visit Sarajevo and visit Bosnia" and we will be more than happy to provide you with content similar to this article.
Along with that, we can recommend you to follow us on our Facebook page Meet Bosnia Tours where we regularly post our activities. Looking forward to hearing from you!